Indigenous Law Bulletin 8(23)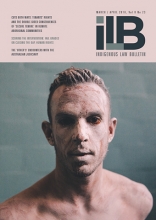 On 15 April, it was 25 years since the recommendations of the Royal 
Commission into Aboriginal Deaths in Custody were handed down. I
n his 13 April speech to the National Press Club—reproduced in 
this edition at page 24—Mr Patrick Dodson, one of the original 
Commissioners, emphasised how little progress there has been since the 
recommendations were made. He questioned the effectiveness of the 
implementation of the recommendations, specifically citing increased 
incarceration rates for Aboriginal people since 1991 and the Royal 
Commission's 29 recommendations for 'imprisonment as a last resort'.
Also in this edition, we publish Dr Stephen Gray's damning review of 
the Northern Territory Intervention, based on the findings of the Castan 
Centre's report, which scored the Intervention's effectiveness against
human rights and other standards. The findings—that the Northern 
Territory has made less progress in and is significantly behind all other 
jurisdictions in all 'Closing the Gap' measures—are in marked contrast to 
the 2016 Closing the Gap report, which while referring to 'mixed results' 
also picked out several positive changes.
Elly Patira is the Executive Director of Australian Lawyers for Remote 
Aboriginal Rights—the pro bono legal service representing Santa 
Teresa residents in their claim before the Northern Territory Civil and 
Administrative Tribunal. In her article, she explains the claim in detail, 
including the perhaps unexpected consequences of this 'secure tenure' 
arrangement for the Department of Housing as landlord. The Santa Teresa 
housing claim is the first collective community legal action of its type, 
and it has already had an immediate impact, suggesting it represents a 
significant opportunity to redefine and advance Aboriginal housing rights 
and standards in Australia.
What binds these pieces is their agreement on the importance of the 
principal of self-determination in addressing disadvantages faced by 
Aboriginal and Torres Strait Islander peoples, as well as their emphasis on 
the need to pay closer attention to the human rights of Indigenous people 
in the formation and implementation of policies that affect them. Alice 
Barter of the Aboriginal Legal Service of Western Australia takes this a step 
further in her piece, which explores the relationship Aboriginal offenders 
have with the criminal justice system in a postcolonial context, with 
particular reference to interactions between the judiciary and Aboriginal 
offenders in sentencing proceedings.
The May/June edition of the ILB will be a special edition focusing on 
Constitutional recognition, and will feature specially commissioned 
artwork created in response to the issue.
Emma Rafferty
Editor
CONTENTS
CUTS BOTH WAYS: TENANTS' RIGHTS AND THE DOUBLE-SIDED 
CONSEQUENCES OF 'SECURE TENURE' IN REMOTE 
ABORIGINAL COMMUNITIES
by Elly Patira
SCORING THE INTERVENTION: FAIL GRADES ON CLOSING 
THE GAP, HUMAN RIGHTS
by Stephen Gray
THE 'OTHER'S' ENCOUNTERS WITH THE AUSTRALIAN 
JUDICIARY
by Alice Barter
OPPRESSIVE 'BLACK LETTER LAW' IN 'HYPERLINK BLUE': 
NEW ONLINE DATABASE INCREASES ACCESSIBILITY TO 
INDIGENOUS LEGAL RESOURCES
by Stijn Denayer
PATRICK DODSON: 25 YEARS ON FROM THE ROYAL 
COMMISSION INTO ABORIGINAL DEATHS IN CUSTODY 
RECOMMENDATIONS
National Press Club Address, reproduced 
with the permission of Mr Patrick Dodson