Indigenous Law Bulletin 8(11)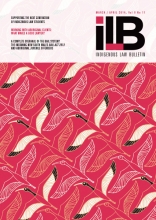 EDITORIAL
Welcome to a very unique and special issue of the Indigenous Law Bulletin ('ILB'). You are about to hear the stories of some incredible Indigenous men and women who have been using their law degrees to build meaningful careers and empower others. From working at a land council to  being a member of the UN—these ten Aboriginal and Torres Strait Islander Australians are proof that hard work and determination really does pay off.
Our thematic edition—which is designed to provide young Indigenous students with practical and engaging advice on the types of legal careers available to them—also features some fantastic articles from some great young minds. Drawing on her experience visiting Canada, the USA and New Zealand last year, Gemma McKinnon writes on how Australian universities can best support Indigenous students. Aurora Intern, Peerce McManus provides a wonderful insight into the work being done by the Yawuru people— the native titleholders of the lands and waters around Rubibi (Broome). Our social justice intern, Caitlin Weatherby-Fell looks at the upcoming changes to the bail system in NSW, focusing on how the changes might affect young Aboriginal offenders.
The articles in this issue have genuinely moved me. It comes at a time when many of us working in the Indigenous legal sector know we have a difficult road ahead. The Australian Government recently announced extensive funding cuts to many Indigenous legal services. This includes the Indigenous Law Centre ('ILC'). Regrettably, we have been advised that all funding for the ILB— and its partner publication, the Australian Indigenous Law Review ('AILR')—will cease at the end of this financial year.
While this decision will clearly have an impact I want to assure our readers that we are committed to continuing both journals. The ILB and AILR are the only publication of their kind in Australia—and one of few Indigenous law journals worldwide. We believe it is of great importance that they continue.
There are many ways you can support us—from renewing your subscription, to making a donation or joining us on social media— every action counts. Visit www.ilc.unsw.edu.au/support-us for more ideas. Please encourage your family, friends and colleagues to do the same.
I hope you enjoy reading the stories of our Indigenous authors. Their strength and courage have inspired me—I know they will inspire you too.
Editor
Rebecca Gallegos