ILC Open Forum - Racial Discrimination Act: Proposed changes and the impact on Indigenous Australians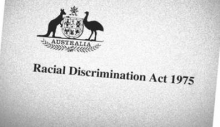 Indigenous Law Centre Open Forum - Racial Discrimination Act: Proposed changes and the impact on Indigenous Australians
Date: Wednesday 4th June
Time: 6-7:30pm
Location: G04 Lecture Theatre, Faculty of Law, UNSW
Panellists: Dr Tim Soutphommasane, Dr Sarah Pritchard SC, Ms Bindi Cole and Professor Megan Davis
Abstract
Section 18C of the Racial Discrimination Act 1975 makes it unlawful to publicly offend, insult, humiliate or intimidate a person or group of people because of their race or ethnic origin. This section has been in operation since 1995. 
 
Earlier this year, the Australian Government released an exposure draft of a bill to remove section 18C and replace it with a more limited prohibition.
 
In this Open Forum we present expert views on how the existing provisions operate, what happens when a person makes a complaint and what it would mean if the draft amendments were enacted, with a focus on the significance of the provisions for Aboriginal and Torres Strait Islander Australians.