Indigenous Law Bulletin 8(28)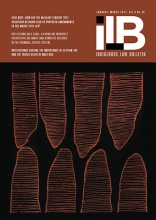 This edition of the ILB covers a breadth of issues effecting Indigenous communities.
Firstly, we are proud to announce that the Indigenous Law Centre director, Professor Megan Davis, will be the new Pro Vice Chancellor Indigenous at UNSW.
Madeleine Heath, a worker at the Warringa Baiya Aboriginal Women's Legal Center, offers a powerful perspective on a case she observed that involved domestic violence. Through her unique perspective, Heath discusses the impact of intersectional discrimination on Aboriginal women, and how this shapes the way the criminal justice system deals with Aboriginal survivors of domestic violence.
Alice Barter & Dennis Eggington have written a case note about the coronal inquest into the death of Miss Dhu while in police custody. They discuss how institutional racism and section 18C of the Racial Discrimination Act are interconnected with the tragic death of Miss Dhu
In 'Indigenous Young People Leaving Care: Questioning the gaps in official statistics' Susan Baidawi, Bernadette Saunders and Philip Mendes discuss the experiences of Indigenous children and young people leaving child welfare system. They identifying a key issue is that there are significant data gaps regarding Indigenous care leavers, which is a barrier to developing informed policy and practice initiatives in this area.
Terri Libesman's article is a reprint from the ILB volume 6, issues 24 edition (2007). Reprinting this alongside 'Indigenous Young People Leaving Care: Questioning the gaps in official statistics' provides readers background to the issue of Indigenous children care, as well as a perspective on what has and hasn't changed in the space over the last ten years.
Peter Whellum discusses the problems faced by traditionally-oriented Aboriginal offenders, and families of those offenders, who are imprisoned in mainstream prisons far from their traditional lands and support networks. He has put together a convincing argument for reform in this area. 
Angus Frith has written a case note about the controversial McGlade decision that lead to proposed amendments to the Native Title Act. A young Law Graduate, Kelsi Forrest, offers a personal perspective on the amendment as a Wajuk Barladong Mineng Nyungar who voted in the authorisation process for 3 of the 6 Indigenous Land Use Agreements that make up the South West Native Title Settlement.
ILB editor, Ruby Langton-Batty interviews UNSW Law graduate Teela Reid about life after law school and her experiences at the Referendum Council's First Nations Regional Dialogues held in Sydney recently.
Finally, Stephen Hall reviews Every Mother's Son Is Guilty: Policing the Kimberley frontier of Western Australia 1882 – 1905 by Chris Owen.
Editor
Ruby Langton-Batty
CONTENTS
EDITORIAL
REFLECTIONs ON A TRIAL
Madeleine Heath
INSTITUTIONAL RACISM, THE IMPORTANCE OF SECTION 18C & THE TRAGIC DEATH OF MISS DHU
Alice Barter & Dennis Eggington
INDIGENOUS YOUNG PEOPLE LEAVING CARE: QUESTIONING THE GAPS IN OFFICIAL STATISTICS
Susan Baidawi, Bernadette Saunders and Philip Mendes
INDIGENISING INDIGENOUS CHILD WELFARE
Terri Libesman
MISSED OPPORTUNITIES FOR CULTURALLY APPROPRIATE IMPRISONMENT OF APY OFFENDERS: THE CROSS BORDER JUSTICE ACT 2009 (SA)
Peter Whellum
CASE NOTE: MCGLADE V NATIVE TITLE REGISTRAR
Angus Frith
A WAJUK BARLADONG MINENG NYUNGAR PERSPECTIVE ON MCGLADE V NATIVE TITLE REGISTRAR AND THE RESULTING NATIVE TITLE AMENDMENT (INDIGENOUS LAND USE AGREEMENTS) BILL
Kelsi Forrest
BOOK REVIEW: EVERY MOTHER'S SON IS GUILTY: POLICING THE KIMBERLEY FRONTIER OF WESTERN AUSTRALIA 1882 – 1905 BY CHRIS OWEN.
Stephen Hall
THE ILB INTERVIEWS: UNSW JD GRADUATE TEELA REID