Indigenous Law Bulletin 8(26)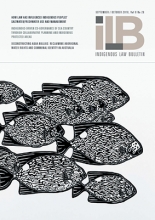 The home of Mabo v Queensland (No 2) [1992] HCA 23—Mer—in the Torres Strait is surrounded by water; the sea is integral to Torres Strait Islander life and livelihood. While Mabo upheld rights to the land, it took another 21 years to gain rights to the sea surrounding Mer in the case of Akiba v Commonwealth [2013] HCA 33.
From an Indigenous worldview, land and water are one (as we can see from the articles in this special edition). This separation of how the law 'deals' with land, sea and freshwater is a Western construct. We can see that 'deconstructing aqua nullius' (in the words of Dr Virginia Marshall)—
both in terms of salt and freshwater—continues to be a major challenge.
This challenge is particularly apparent when we are considering Indigenous environmental governance of saltwater and freshwater.
This issue of the Indigenous Law Bulletin ('ILB') brings together the work of presenters from the Indigenous Peoples and Saltwater/Freshwater Governance for a Sustainable Future Workshop held on the land and waters of the Mouheneenner people (Hobart, Tasmania).
The workshop explored relationships between Indigenous peoples and their marine and freshwater environments, and the role of law in mediating these relationships. The first article, written by the Workshop Co-Conveners, gives an overview of the presentations and discussions and seeks to identify themes from the workshop: threats and barriers to Indigenous governance, potential solutions and ways forward.
The remainder of the articles in this edition were papers presented at the workshop, including by the two keynote speakers: Professor Jacinta Ruru and Dr Virginia Marshall. The papers include consideration of Indigenous relationships with freshwater and saltwater from a range of perspectives: academia, legal practice and facilitators who work on country with communities.
One thing the workshop certainly emphasised is the power of Indigenous communities going out and just doing—working with other non-Indigenous actors in their areas to negotiate ways they can manage their land, waters and sea country. However, sometimes it can be hard for communities to navigate through any legal issues they might meet.
This is where the perspectives from the workshop—some of which are on display in this edition of the ILB—and the continuing discussions we hope they spark, will play a part.
Lauren Butterly and Benjamin J. Richardson
CONTENTS
INDIGENOUS PEOPLES AND SALTWATER /
FRESHWATER GOVERNANCE
by Lauren Butterly and Benjamin J. Richardson
DECONSTRUCTING AQUA NULLIUS: RECLAIMING
ABORIGINAL WATER RIGHTS AND COMMUNAL IDENTITY
IN AUSTRALIA
by Virginia Marshall
INDIGENOUS-DRIVEN CO-GOVERNANCE OF SEA COUNTRY
THROUGH COLLABORATIVE PLANNING AND INDIGENOUS
PROTECTED AREAS
by Dermot Smyth, Jackie Gould, Margaret Ayre, Ellie Bock,
Melanie Dulfer-Hyams and Tanya Vernes
VIcTORIA'S TRADITIONAL OWNER SETTLEMENT ACT
AND INDIGENOUS MANAGEMENT OF WATER RESOURCES:
AN IMPROVEMENT ON THE NATIVE TITLE ACT OR MORE
OF THE SAME?
by Katie O'Bryan
REGULAR
LEGAL INDIGENOUS RECOGNITION DEVICES
by Jacinta Ruru
ARTIST NOTE: BADU ART CENTRE AND ART MOB
MONTHS IN REVIEW: AUGUST–SEPTEMBER
Compiled by Paris Donnelly