Indigenous Law Bulletin 8(15)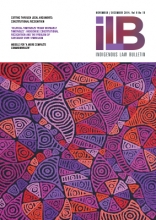 EDITORIAL
It is with great pleasure that I bring you the final ILB for 2014, the first volume of our two-part special edition on Indigenous constitutional recognition.
This edition is one that will make you think deeply, not only about constitutional recognition itself, but about issues of self-determination, sovereignty, reconciliation and rights. It will also make you think about what sort of future we want for this nation. For me, it is one that acknowledges the truths of our history, and seeks out justice that is done with respect and in genuine collaboration with our First Nations peoples. Constitutional recognition has a role to play in this, but as Prof Megan Davis points out in her article, 'Without a substantive amendment it is unlikely to get the support of Aboriginal and Torres Strait Islander peoples.'
This year Prof Davis has been discussing constitutional reform with Indigenous students at UNSW Law and I am pleased that two students, Jason O'Neil and Jessica Kitch, have contributed to this edition. It is important that the views of young Aboriginal people are heard in this debate. In addition, Lucy Jackson, a recent Juris Doctor graduate from UNSW, has examined possible models for a more complete Commonwealth, based on Noel Pearson's recent Quarterly Essay. We are pleased that the next generation of lawyers are putting their minds to this very complex task the nation is undertaking. 
We hear also from JCU's Kate Galloway who cuts through the legal arguments in constitutional recognition; UQ's Gordon Chalmers who challenges thinking around notions of race, identity and the Constitution; and Shelley Bielefeld from UWS who looks at the use of language in policy decisions and constitutional recognition.
I would also like to congratulate the winner of our inaugural university-wide essay competition, Ms Esther Pearson, from the University of Adelaide, whose paper is published in this edition. 
As we move towards a referendum, the role of the Indigenous Law Centre in providing quality information on the issue to Australians has become even more important. As such, we will continue to explore this theme in a second thematic edition of the ILB to be published in the New Year.
Editor
Rebecca Gallegos