January/February 2011 Volume 7 Issue 22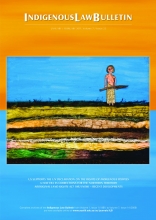 Editorial
Welcome to the first edition of the Indigenous Law Bulletin ('ILB') for 2011, and my first edition as the new editor of the ILB. As an Indigenous law student, I have consulted articles in the ILB a number of times. It is always refreshing to pick up an ILB and read Indigenous perspectives on the law – perspectives which are often missing from classroom discussions. I am extremely honoured and proud to work on the ILB and I am dedicated to ensuring that the ILB continues to be a quality journal, providing accessible, accurate and timely information about Australia's Indigenous peoples and the law. I am particularly committed to ensuring that the ILB is a community resource, whilst remaining a valuable resource to legal practitioners, advocates, policy-makers and researchers.
In this edition we consider a wide range of issues affecting Indigenous people in Australia. Executive Director of the Arts Law Centre of Australia Robyn Ayres discusses the Indigenous Wills project and the need for reform of the Aboriginal Affairs Planning Authority Act 1972 (WA). Jason Behrendt shares his views on the interpretation of s 36(1)(b1) of the Aboriginal Land Rights Act 1983 (NSW). Peter Billing looks at income management for social welfare recipients in Queensland, Western Australia and prescribed parts of the Northern Territory. Amanda Alford and Rosalind Croucher from the Australian Law Reform Commission (ALRC) discuss and reflect on the ways in which the Commission engages with Indigenous stakeholders and outline the ALRC's work moving forward and the way Indigenous people can be more actively involved in the process of law reform. Priscilla Collins examines the Northern Territory Government correctional policy entitled 'A New Era' and questions whether the policy actually offers new solutions to old problems. In addition, Paul Newman shares his view on the importance of protecting Intellectual Property.
Moving abroad, this edition also includes an extract of Barrack Obama's speech supporting the UN Declaration on the Rights of Indigenous Peoples.
This year marks the 30th Anniversary of the ILB and to mark the occasion, the next edition of the ILB will be a special edition. The special edition includes commentary from Linda Burney MP, the Hon. Michael Kirby AC CMG, Professor Garth Nettheim and Indigenous Law Centre (ILC) Director Megan Davis. 
April Long
Editor
CONTENTS
US Supports the UN Declaration on the Rights of Indigenous Peoples Barack Obama , President of the United States of America
Arts Law Update: Indigenous Wills Project  by Robyn Ayres
Residential Lands under the Aboriginal Land Rights Act 1983 (NSW): Recent Developments by Jason Behrendt
Conditioning Social Welfare Pa yments: Securing Liberty for Vulnerable Children and Adults? by Peter Billings
Family Violence: A National Legal Response – The ALRC and Indigenous People: Continuing the Conversation by Amanda Alford and Rosalind Croucher
A 'New Era in Corrections' for the Northern Territory? by Priscilla Collins and Ruth Barson
An Interview with Paul Newman - The Importance of Protecting Intellectual Property Rights for Indigenous Business
REGULAR
MONTHS IN REVIEW – January / February compiled by Simone King