January / February 2012, Volume 7 Issue 28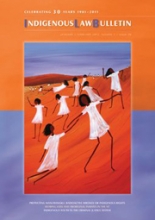 Editorial
Welcome to the first edition of the Indigenous Law Bulletin ('ILB') for 2012! Troy Vanderpoll and Damien Howard open this general edition with an investigation of the impact hearing loss has had on Indigenous inmates in the Northern Territory. The article outlines that 94 per cent of Aboriginal inmates have significant hearing loss which creates difficulties in communication within the criminal justice system.
It is an alarming fact that Indigenous juveniles in New South Wales ('NSW') are incarcerated at a rate 28 times higher than non-Indigenous juveniles. This figure is well documented but explanations and solutions are less common. In her article The Criminalisation of Conduct: Indigenous Youth in the Criminal Justice System Laura Brown explores the attitudes of police and the imposition of bail conditions.
Fiona Campbell explores the issue of overcrowding in Queensland prisons. The article calls for a greater level of accountability and transparency in relation to prison environments.
Natalie Wasley outlines concerns surrounding the National Radioactive Waste Management Bill 2010. The article entitled Protecting Manuwangku: Radioactive Wrongs or Indigenous Rights calls for appropriate consultation with Traditional Owners and transparency surrounding the Deed of Agreement that identified the Muckaty site.
This edition contains the recommendations of the Expert Panel on Constitutional Recognition of Indigenous Australians. The extract contains the summary of proposed changes, including a Draft Bill prepared by the Expert Panel and a process for referendum.
Ellena Petinos a former Indigenous Law Centre intern closes this edition with a review of the book Indifferent Inclusion: Aboriginal People and the Australian Nation by Russell McGregor.
This is my last edition, as Editor of the ILB. It has been an interesting year with significant highs and lows in Australia's relationship with Aboriginal and Torres Strait Islander people. To my Indigenous Law Centre family, Editorial Board, designer, contributors, artists and subscribers- thank you for a rewarding experience and the fabulous work that you do.
April Long
Editor
CONTENTS
MASSIVE PREVALENCE OF HEARING LOSS AMONG ABORIGINAL INMATES IN THE NORTHERN TERRITORY by Tory Vanderpoll and Damien Howard
THE CRIMINALISATION OF CONDUCT: INDIGENOUS YOUTH IN THE CRIMINAL JUSTICE SYSTEM  by Laura Brown
OVERCROWDING IN QUEENSLAND PRISONS by Fiona Campbell
PROTECTING MANUWANGKU: RADIOACTIVE WRONGS OR INDIGENOUS RIGHTS by Natalie Wasley
RECOGNISING ABORIGINAL AND TORRES STRAIT ISLANDER PEOPLES IN THE CONSTITUTION Report of the Expert Panel
BOOK REVIEW
INDIFFERENT INCLUSION: ABORIGINAL PEOPLE AND THE AUSTRALIAN NATION by Ellena Petinos
REGULAR
MONTHS IN REVIEW – January / February compiled by April Long