Volume 14 Number 2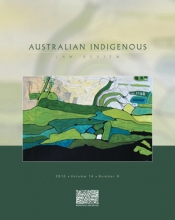 Commentary
The 'Intervention' Legislation – 'Just' Terms or 'Reasonable' Injustice? – Wurridjal v Commonwealth of Australia
Dr Shelley Bielefeld
Constitutional Vision and Judicial Commitment: Aboriginal and Treaty Rights in Canada
James (Sa'ke'j) Youngblood Henderson
Giving Voice to Rivers: Legal Personality as a Vehicle for Recognising Indigenous Peoples' Relationships to Water?
James D. K. Morris and Jacinta Ruru
Comparative Analysis of Canadian Law, Aboriginal Law and Civil Law Traditions
Yvonne Boyer
Moving Beyond the Apology: Achieving Full and Effective Reparations for the Stolen Generations
Chiara Lawry
Scrutinising ILUAs in the Context of Agreement Making as a Panacea for Poverty and Welfare Dependency in Indigenous Communities
Dr Deirdre Howard-Wagner
Court and Tribunal Decisions
Australia
R v Morgan [2010] VSCA 15
White v South Australia [2010] SASC 95
Huddleston v Aboriginal Land Commissioner [2010] FCAFC 66
Akiba on behalf of the Torres Straight Islanders of the Regional Seas Claim group v Queensland (No 2) [2010] FCA 643
R v Wanganeen [2010] SASC 237
Roe v Kimberley Land Council [2010] FCA 809
Kitching v Queensland Commissioner of Police [2010] QSC 303
Bullen v Western Australia [2010] FCA 900
Mullett on behalf of the Gunai/Kurnai People v Victoria [2010] FCA 1144
Kennedy v NSW Minister for Planning [2010] NSWLEC 240
R v Woods [2010] NTSC 69
Canada
Rio Tinto Alcan Inc v Carrier Sekani Tribal Council [2010] SCC 43
Yellowknives Dene First Nation v Canada (Attorney General) [2010] FC 1139
Beckman v Little Salmon/Carmacks First Nation [2010] SCC 53
Botswana
Moselthanyane v Attorney General of the Republic of Botswana [2010] BWHC
South Africa
Tongoane v National Minister for Agriculture and Land Affairs [2010] ZACC 10
Belize
Maya Leaders Alliance v Belize (Supreme Court of Belize, 28 June 2010)
Sweden
Case of Handölsdalen Sami Village v Sweden [2010] ECHR 418
Artist's Note
In 2006, Helen McCarthy Tyalmuty had her first solo exhibition in Melbourne. Further solo and group exhibitions, in Sydney and Perth, quickly followed. In August 2007, Helen was honoured to receive the People's Choice Award at the 24th Telstra National Aboriginal & Torres Strait Islander Art Awards for her painting Tyemeny Liman's Wutinggi (Grandpa Harry's Canoe). Helen was also a finalist at the 2008 Telstra Awards. Helen now devotes herself to painting full time. Helen now devotes herself to painting full time in her community at Bulgul, on the coast between Daly River and Darwin, and with her family in Darwin.
The artist explains the cover artwork entitled Wangi – the start of the wet: 'This work was painted in Alice Springs and it was one of a series I did exploring a completely new artistic direction for me. Until this series, all my works had explored traditional topics from a bush point of view. In this series, I looked at traditional subjects from both a bush and a city perspective, and as a result, some of the iconography I have used clearly shows urban landscapes. I guess it recognises my heritage which is part Indigenous and part non-Indigenous. The painting itself talks about the start of the wet. Across the lighter part of the painting, we see the wind that has swung around from the desert and now comes from the north bringing the monsoons with it. It is at this time that the bush turns green and the edible plants start to spring up. But not only is the bush green, so is Darwin, my other home.'
Daniel Threlfell & Daniel Wells, Editors
The AILR is prepared at the Indigenous Law Centre at the University of New South Wales, Sydney, Australia, whose in-kind support makes the AILR possible. The AILR also gratefully acknowledges the support of the Commonwealth Attorney-General's Department in the development of this publication.
The editors wish to express their gratitude to the following people, who generously and expertly prepared headnotes for this edition: Michael Brull for Mullett on behalf of the Gunai/Kurnai People v Victoria [2010] FCA 1144, Dave Buxton-Forman for R v Morgan [2010] VSCA 15; Megan Caristo for R v Woods [2010] NTSC 69, Mel Cheng for Huddleston v Aboriginal Land Commissioner [2010] FCAFC 66, Paul Fine for Moselthanyane v Attorney General of Botswana (MAHLB-000393-09) [2010] BWHC and Maya Leaders Alliance v Attorney General of Belize (Supreme Court of Belize, 28 June 2010), Katie Gilchrist for Beckman v Little Salmon/Carmacks First Nation [2010] SCC 53 and Yellowknives Dene First Nation v Canada (Attorney General) [2010] FC 1139', Zoe Hankin for R v Wanganeen [2010] SASC 237 and Case of Handölsdalen Sami Village and Others v Sweden [2010] ECHR 418, Amanda Kazacos for Kennedy v NSW Minister for Planning [2010] NSWLEC 240, Ange McDonald for Rio Tinto Alcan Inc. v Carrier Sekani Tribal Council [2010] SCC 43, Xavier O'Halloran for Akiba on behalf of
the Torres Strait Islanders of the Regional Seas Claim Group v State of Queensland (No 2) [2010] FCA 643, Kaylie Salvatori for White and Others v State of South Australia [2010] SASC 95 and Claire Stimpson for Bullen v State of Western Australia [2010] FCA 900 and Roe v Kimberley Land Council [2010] FCA 809.
The editors thank the Editorial Panel for their support and assistance. Thanks are also extended to the referees who anonymously – and very generously – reviewed the submissions for this edition. The editors would also like to thank Janette Murdoch, Dylan Lino, April Long, Peta MacGillivray, Kyllie Cripps, Simone King and all of the Centre staff and volunteers as well as designer John Hewitt, for their contributions to the creation and production of this edition of the AILR.