Dr Cripps joins Michael Kirby on NAIDOC Week panel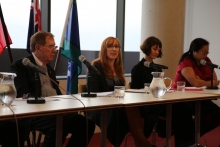 ILC Research Director, Dr Kyllie Cripps, joined a panel of health and legal experts for a seminar addressing the health and social consequences of Indigenous incarceration. The seminar was part of the UNSW Kirby Institute's NAIDOC Week celebrations held on Tuesday July 7.
Dr Cripps joined former High Court judge Michael Kirby; the head of the Kirby Institute's Aboriginal and Torres Strait Islander Health Program, Dr Marlene Kong; Dr Megan Williams from Muru Marri from UNSW's School of Public Health and Community Medicine; and Mr Gregory Davison from the Aboriginal Health, Justice Health & Forensic Mental Health Network.
She discussed the importance of programs and services that supported the women, families and communities of those who have been incarcerated. Speaking at the panel Dr Cripps said that "incarceration affects everybody, not just those behind bars."
For more on the panel read this story by The Guardian.
To find out more about Dr Cripps' research click here.