Megan Davis elected Chair of UN Permanent Forum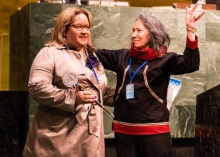 Prof Davis has been elected Chair of the UN Permanent Forum on Indigenous Issues (UNPFII), currently being held in UN Headquarters, New York until May 1. 
The UNPFII is an advisory body to the Economic and Social Council, with a mandate to discuss indigenous issues related to economic and social development, culture, the environment, education, health and human rights. At the opening of the fourteenth session on Monday, UN Deputy Secretary-General Jan Eliasson said 2015 will be "an important year for the security and prosperity of the world's indigenous peoples." 
You can keep up-to-date on the Forum by following Prof Davis and the ILC on twitter: @mdavisUNSW and @ILC_UNSW. The UNPFII is also on twitter @UN4Indigenous. 
To learn more about the forum including reading press releases and watching live streaming, visit the UN News Centre website here. 
ABC Radio National's Drive program spoke with Megan recently on her appointment, you can listen to the interview online here.
Prof Davis is pictured here at the opening of the UNPFII with outgoing Chair, Dalee Sambo Dorough; on the homepage Prof Davis is pictured (left) at a UN Press Conference with Rosa-Máren Magga and Joan Carling, also taken this week.