ILC heads to Canberra for AIATSIS conference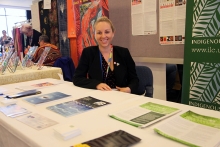 The ILC attended the Australian Institute of Aboriginal & Torres Strait Islander Studies (AIATSIS)'s national conference in Canberra, helping the organisation mark its 50th year in operation. The conference 'Breaking Barriers in Indigenous Research and Thinking: 50 years on' included lectures and sessions on topics such as history, education, health, art, language, rights and reconciliation and law with presenters such as Prof Martin Nakata from UNSW, former ILC Director Prof Mick Dodson, Centre Associate Neva Collings & ILB author Dennis Foley - to name a few!
Our ILB Editor Rebecca Gallegos was there to run our stall and we were grateful to the many conference delegates that stopped by to pick up some of our journals, research briefs and brochures. Congratulations to AIATSIS for a successful conference and happy 50th!
Check out some photos on our Facebook page here.