Indigenous Law Bulletin 8(25)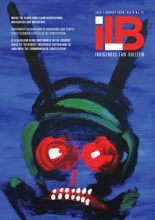 Many Australian's watched on in horror from their living rooms as the ABC's Four Corners program revealed systemic abuse suffered by children as young as ten years old in juvenile detention centres in the Northern Territory. Of particular concern to Indigenous and non-Indigenous viewers alike was Four Corners' appalling footage which showed aboriginal children being gassed, stripped and assaulted by staff at the Don Dale Youth Detention Centre. Old wounds were reopened via the screening of such cruel, inhumane and degrading treatment of Indigenous children – wounds not just relating to the pain and suffering of juveniles in detention, but to other issues impacting on Aboriginal and Torres Strait islander peoples to this day. In this edition of the Indigenous Law Bulletin, we focus on several of those concerns which affect the lives of many people on both a local and national level.
With 2016 marking the 20-year anniversary since the Royal Commission into Aboriginal Deaths in Custody, the Indigenous Law Bulletin looks back into how Aboriginal women were considered by the RCIADIC. Adrian Howe's paper 'Aboriginal Women in Custody'- which appeared in this publication in 1988 – provides a stark reminder of just how little research was being conducted into Aboriginal women prisoners at the time. It may only surprise a few that, back then, the primary focus of the Royal Commission was Aboriginal men.
In this edition, we also hear from land claim lawyer Kristy Howey, who reminds us that no land claim or native title claim can ever parallel Kenbi (Northern territory) for the fierceness of contestation, nor the complexity of its issues. We thank Kristy for reliving her experiences.
Elsewhere, after identifying federalism as a governance structure that binds and respects levels of autonomy of peoples existing at a local level to create and maintain another level of governance, Mark McMillan asks the question, via a brief look at South Australia and Victoria: is federalism being undermined in the current surge to 'recognise' Indigenous Australians?
The academic content of this edition was compiled in its entirety by former editor Emma Rafferty. During her time in charge of the Indigenous Law Bulletin, Emma passionately upheld this publication's reputation as the definitive record of the issues and policies effecting Aboriginal and Torres Strait Islander peoples in the legal sphere. Emma, amongst the most skilled and respected book editors in Australia, is off to the Australian Writers' Guild. We wish her all the best and thank her for her expertise, advice and guidance during her time with us.
Editor
CONTENTS
INSIDE THE KENBI LAND CLAIM NEGOTIATIONS: WATERSHEDS AND WATERLOGS
by Kirsty Howey
SUBSTANTIVE RECOGNITION OF ABORIGINAL AND TORRES STRAIT ISLANDER PEOPLES IN THE CONSTITUTION
by Matthew Stubbs
IS FEDERALISM BEING UNDERMINED IN THE CURRENT SURGE TO 'RECOGNISE' INDIGENOUS AUSTRALIANS IN (AND INTO) THE COMMONWEALTH CONSTITUTION?
by Mark McMillan
BOOK REVIEW: Keeping Their Marbles: How the Treasures of the Past Ended Up in Museums—And Why They Should Stay There by Tiffany Jenkins
by Kathy Bowrey
BOOK REVIEW: Specialist Courts for Sentencing Aboriginal Offenders: Aboriginal Courts in Australia by Paul Bennett
by Julian Murphy
RETROSPECTIVE ARTICLE: ABORIGINAL WOMEN IN CUSTODY: A FOOTNOTE TO THE ROYAL COMMISSION
by Adrian Howe
CANADA PUSHES FORWARD WITH UNDRIP: EXTRACT FROM BILL C-262
REGULAR
ARTIST NOTE: BIDDY AND JACK DALE MENGENEN