Indigenous Law Bulletin 8(20)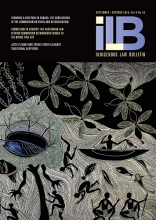 EDITORIAL
On 2 June 2015, the conclusions of the Commission on Truth 
and Reconciliation in Canada were presented by Justice Murray 
Sinclair. As Dr Sandy Lamalle writes, the Commission's conclusions 
are comprehensive and address historical, political, ideological, 
cultural, economic, legal and spiritual concerns. They include the 
documentation of 10 'Principles of Reconciliation', the creation 
of a National Centre for Truth and Reconciliation, and the issue of 
94 policy recommendations. The conclusions of the Commission 
were well received across Canadian society, and were endorsed 
by the then Prime Minister Stephen Harper. The Commission's 
report also prompted discussions about reconciliation to take 
place as part of the federal election campaigns, which included 
newly elected Prime Minister Justin Trudeau promising to open
an inquiry on missing and murdered Aboriginal women and to 
build a 'renewed relationship' with every First Nation in Canada. 
While a positive outcome for Canada, the process and findings 
of the Commission also highlight how significantly Australia 
is trailing behind in terms of ventilating and taking action to 
address issues around reconciliation and recognition.
Also in this edition, we revisit the closure of the Oombulgurri 
community in 2011, in light of the Western Australian government's announcement of its 
intention to cease the funding of essential services to up to 150 
remote communities. Tammy Solonec and Cassandra Seery of 
Amnesty International question whether the actions of the Western 
Australian government in relation to the closure of Oombulgurri 
were lawful, and whether they contravened Australia's obligations 
as a state party to international human rights covenants; and 
Dennis Eggington and Sarouche Razi draw a line between the 
community's closure and the historical casting of Aboriginal 
people as 'Other' in a compelling piece that makes for extremely 
concerning reading. The closure of remote communities looks set 
to be an ongoing issue, and the actions of various governments 
need to be scrutinised; the ILB is committed to being a part of that 
scrutiny process.
Finally, this edition of the ILB is my first as editor, having taken over 
from Rebecca Gallegos whose work as editor since 2013 I would 
like to acknowledge and thank her for. I am honoured to edit such 
a highly regarded and important publication, and want to thank 
UNSW Law, the Indigenous Law Centre and the ILB's many valued 
contributors for their warm welcome. I look forward to continuing 
the proud publishing tradition of the ILB, and to engaging with ILB 
readers through not only its pages, but also at future ILC events 
and in the community.
Editor
CONTENTS
FOUNDING A NEW PATH IN CANADA: THE CONCLUSIONS
 OF THE COMMISSION ON TRUTH AND RECONCILIATION
by Sandy Lamalle
WHO OWNS COPYRIGHT IN NATIVE TITLE CONNECTION 
REPORTS?
by Eamon Ritchie and Terri Janke
CONNECTION TO COUNTRY: THE AUSTRALIAN LAW 
REFORM COMMISSION RECOMMENDS CHANGE TO 
THE NATIVE TITLE ACT
by Robyn Gilbert
THE OOMBULGURRI EVICTION: PRACTICALITY OR 
ILLEGALITY?
by Tammy Solonec and Cassandra Seery
EATTS V GUNDY AND TORRES STRAIT ISLANDER 
TRADITIONAL ADOPTIONS
by Heron Loban, Aiden Booker and Kathryn van Doore
THE BOGEYMAN IN THE MIRROR: WHITE AUSTRALIA 
AND THE PROPOSAL TO CLOSE REMOTE COMMUNITIES 
IN WESTERN AUSTRALIA
by Dennis Eggington and Sarouche Razi