Indigenous Law Bulletin 8(19)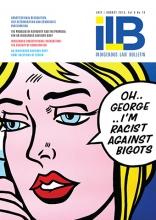 EDITORIAL
The conversation on constitutional recognition has shifted 

somewhat since our last two special editions. In late June, the 

Joint Select Committee tabled their final report. This was followed 

by a meeting of 40 Aboriginal and Torres Strait Islander peoples 

with the Prime Minister and Opposition Leader, to discuss a way forward for a referendum.
Against this backdrop, a proposal put forth last year by Noel 

Pearson's Cape York Institute is gaining traction. This proposal 

for an Indigenous parliamentary or advisory body to be set up 

within our Constitution was discussed at a recent symposium in Sydney—and is the topic discussed in this special edition.
The body appears to be a way forward in finding a substantial 

model of recognition. This is important, especially if the Expert 

Panel and Joint Select Committee's recommendation of a new 

section (116A) prohibiting racial discrimination, doesn't form part of the final proposal.
While the final model for change is not clear yet, what is very 

clear is that a minimalist approach to constitutional reform will 

not be accepted by Indigenous Australians. And nor should it be accepted by the rest of the population.
As I write this editorial, discussions have now turned to the idea 

of Indigenous only constitutional conventions. While a proposal 

asking the Federal Government to fund a series of Indigenous 

conventions was originally knocked back by Tony Abbott, the 

conventions now look set to go ahead under the administration 

of a referendum council. This is a positive development in the 

process, as it is important that Aboriginal and Torres Strait Islander 

peoples have the appropriate space to consider all of the options for constitutional reform. 
Finally, this edition has been made possible with the generous support 

of UNSW Law. In addition to their ongoing in-kind support, the 

faculty has stepped in to fund this special edition—my final one as Editor.
I have thoroughly enjoyed editing the ILB and hope you have enjoyed reading it. My sincere thanks must go to: John Hewitt, Megan Davis, Leon 

Terrill, Marie Iskander, Kyllie Cripps, Melanie Simpson, Lauren 

Butterly, Wayne Metters and Kate Bonser. Thank you also to the 

dedicated members of the ILB Editorial Panel and ILC Steering Committee; and the very helpful staff at UNSW Law.
AN INDIGENOUS ADVISORY BODY: SOME QUESTIONS 
OF DESIGN
AN INDIGENOUS ADVISORY BODY: ADDRESSING THE 

CONCERNS ABOUT JUSTICIABILITY AND PARLIAMENTARY 

SOVEREIGNTY
INDIGENOUS CONSTITUTIONAL RECOGNITION FROM 

THE POINT OF VIEW OF SELF-DETERMINATION AND ITS 

EXERCISE THROUGH DEMOCRATIC PARTICIPATION
CONSTITUTIONAL RECOGNITION, SELF-DETERMINATION 

AND AN INDIGENOUS REPRESENTATIVE BODY
INDIGENOUS CONSTITUTIONAL RECOGNITION: 

THE CONCEPT OF CONSULTATION
THE PROBLEM OF AUTHORITY AND THE PROPOSAL 

FOR AN INDIGENOUS ADVISORY BODY
STATEMENT PRESENTED BY ABORIGINAL AND TORRES 

STRAIT ISLANDER ATTENDEES AT A MEETING HELD WITH 

THE PRIME MINISTER AND OPPOSITION LEADER ON 

CONSTITUTIONAL RECOGNITION
BOOK REVIEW: EVERYTHING YOU NEED TO KNOW 

ABOUT THE REFERENDUM TO RECOGNISE INDIGENOUS A

USTRALIANS BY MEGAN DAVIS AND GEORGE WILLIAMS