Rachel Davis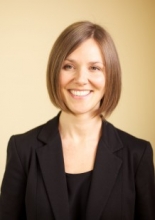 Rachel Davis
BA (Politics and International Relations)/ LLB (UNSW); LLM (Harvard)
Biography
Rachel is based in New York and works as Legal Advisor to the Special Representative of the UN Secretary-General on Business and Human Rights. She is also a Fellow at Harvard Kennedy School's Corporate Social Responsibility Initiative. Rachel is responsible for advising the Special Representative on access to justice for individuals and communities adversely affected by corporate activities, including Indigenous peoples. Rachel has represented the mandate at the UN Permanent Forum on Indigenous Issues, which at its 2009 session, gave its support to the "Protect, Respect and Remedy" policy framework proposed by the Special Representative. This framework outlines the complementary human rights responsibilities of states and companies and was unanimously endorsed by the UN Human Rights Council in 2008.
Rachel is a UNSW Law School graduate with experience in both domestic and international legal issues. She has clerked at the UN International Criminal Tribunal for the former Yugoslavia in the Hague and at the High Court of Australia. She has also worked in the Australian Federal Attorney-General's Department as a Policy Officer in the Indigenous Law and Justice division, and as an Associate at the International Peace Institute, a New York-based NGO focused on the UN.
Rachel has a particular interest in legal issues concerning Indigenous peoples and has published in this area, including with the Harvard Project on American Indian Economic Development. While at UNSW Rachel was a tutor in the Aboriginal Education Program and was on the Editorial Board of the Indigenous Law Bulletin, and she is very pleased to be able to continue her association with the Indigenous Law Centre.

Current research interests
International human rights; Indigenous peoples' rights to land and resources