Indigenous Law Bulletin 8(9)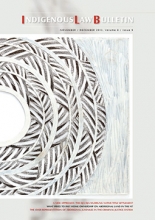 EDITORIAL
One of the great things about the Indigenous Law Bulletin ('ILB') is that it provides a space for those working in the legal system and community sector to share their experiences and opinions. Having diversity of opinion allows us to better understand what it's like to work at the 'forefront' of the Australian legal system—and an important part of this is including pieces from Indigenous people and organisations.
The final edition of the ILB has a great variety of contributors focusing on important and topical issues from right around Australia. In Victoria, we hear from barrister Adam McLean and managing lawyer for Native Title Services Victoria, Nick Testro. They discuss how the recent Dja Dja Wurrung settlement could pave the way for quicker native title settlements.
Principal Lawyer from the Queensland Aboriginal and Torres Strait Islander Legal Service, Greg Shadbolt, reflects on the Queensland Government's proposed laws to allow repeat juvenile offenders' names to be published. How these laws could affect Indigenous juvenile offenders is an important issue which Greg very passionately discusses.
 Also looking at young offenders is Indigenous lawyer, David Pheeney, who discusses the importance and potential of the Youth Offenders Act 1997 (NSW) in addressing the over-representation of Aboriginal juveniles in the criminal justice system. The over-representation of Indigenous people with mental or cognitive impairments is discussed by Peta MacGillivray and Eileen Baldry from the University of New South Wales ('UNSW'), who are currently doing some crucial research in this area.
UNSW lecturer and Indigenous Law Centre Fellow, Leon Terrill, examines the complex issue of home ownership in the Northern Territory ('NT'). Also looking at the NT is University of Western Sydney ('UWA') lecturer Shelley Bielefeld, who explores the relationship between School Enrolment and Attendance Measures ('SEAM') and human rights.
We also take a look at the recent High Court Case Munda v Western Australia [2013] HCA 38 in a casenote written by our Social Justice intern Steven Gardiner.
Another privilege of editing the ILB is being able to source artworks from upcoming and established Indigenous artists. Our final issue for 2013 features the stunning work of award winning artist Gunybi Ganambarr.
Finally I would to thank all of the hardworking and enthusiastic staff members, interns and volunteers who have contributed to the ILB this year. And most importantly, thank you to our subscribers for supporting the ILB—see you in 2014!
Rebecca Gallegos
Editor
CONTENTS
NAMING AND SHAMING YOUTH OFFENDERS: BONFIRE OF THE VANITIES
by Gregory Shadbolt
THE DJA DJA WURRUNG NATIVE TITLE SETTLEMENT: A NEW APPROACH TO SETTLING NATIVE TITLE
by Adam McLean and Nick Testro
WHAT PRICE TO PAY? HOME OWNERSHIP ON ABORIGINAL LAND IN THE NORTHERN TERRITORY
by Leon Terrill
CONDITIONAL INCOME SUPPORT UNDER SEAM: HUMAN RIGHTS COMPATIBILITY ISSUES
by Shelley Bielefeld
INDIGENOUS AUSTRALIANS, MENTAL AND COGNITIVE IMPAIRMENT AND THE CRIMINAL JUSTICE SYSTEM: A COMPLEX WEB
by Peta MacGillivray and Eileen Baldry
UNDERSTANDING THE IMPORTANCE AND 'POTENTIAL' OF THE YOUTH OFFENDERS ACT 1997 (NSW) IN ADDRESSING THE OVERREPRESENTATION OF ABORIGINAL JUVENILES IN THE CRIMINAL JUSTICE SYSTEM
by David Pheeney
CASENOTE: MUNDA V WESTERN AUSTRALIA (2013) 302 ALR 207
by Steven Gardiner
Regular
MONTHS IN REVIEW – November / December