Indigenous Law Bulletin 8(18)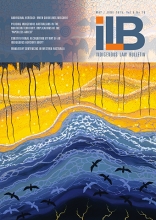 EDITORIAL
This edition covers some of the legal challenges, as well as the positive developments, that are currently facing Indigenous people in Australia and in Canada. 
WA based barrister, Greg McIntyre SC, analyses the recent Aboriginal heritage case in Port Hedland. In Robinson v Fielding the WA Supreme Court overturned a decision by the Aboriginal Cultural Materials Committee ('ACMC') to deregister the Marapikurrinya Yintha cultural heritage site. The case is significant because it demonstrates that the guidelines used by the ACMC are inconsistent with the definition of 'Aboriginal site' in the Aboriginal Heritage Act. 
The Noongar (Koorah, Nitja, Boordahwan) (Past, Present, Future) Recognition Bill is discussed by upcoming lawyer Michael Mccagh. The Bill is part of a $1.3 billion native title package offered by WA to the Noongar people, covering 200 000 square kilometres in the southwest corner of WA, including Perth. 
Also in WA, Tammy Solonec from Amnesty International discusses mandatory sentencing and the Home Burglary Bill. Like Ms Solonec, we are concerned about any legislation that might disproportionately impact Indigenous people. This "tough on crime" approach is also evident in the NT under their 'paperless arrests' laws. As analysed by Indigenous Law Centre intern, David Yaoming Yang, the new provisions have been used over 700 times since December 2014, with around 75 per cent of those detained being Aboriginal. 
Providing Indigenous peoples with a voice in the lawmaking process is the topic discussed by George Williams AO, who analyses Noel Pearson's constitutional recognition proposal. We will include further discussions on Pearson's model for reform in an upcoming edition. 
Also in this edition Pauline Foster and Terri Janke examine the Kimberley Land Council's Intellectual Property and Traditional Knowledge Policy. The Policy aims to 'ensure that research is conducted in accordance with ethical standards so that the rights of Kimberley Aboriginal people are protected from exploitation.'
Finally, thank you to Anishinaabekwe lawyer, Janine Seymour, for her notes on the Canadian Keewatin case. Ms Seymour is currently completing a law thesis, explaining an Anishinaabe legal understanding of Canadian treaties (specifically Treaty No. 3) to a Western legal audience.
Editor
Rebecca Gallegos