Indigenous Law Bulletin 8(14)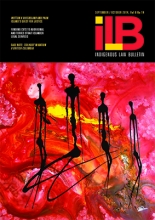 EDITORIAL
By far the most rewarding part of being Editor is talking to community members who seek to use the law as a means of empowering Indigenous people. In this edition, I've sought to bring some of those stories to life. 
In Wotton v Queensland and Palm Island's Quest for Justice, we hear from solicitors Stewart Levitt and Daniel Meyerowitz-Katz. They act for Lex Wotton, his wife Cecilia, and mother Agnes, on behalf of the Indigenous population of Palm Island, who are taking representative action against the State of Queensland over the tragic events that occurred on Palm Island in November, 2004. Marlene Bennett, a Warlmanpa woman from the Northern Territory, tells her story about her community's eight year fight to stop a nuclear waste site at Muckaty Station. The nomination for Muckaty as a site was withdrawn in June this year. Thank you to Paddy Gibson for his assistance in facilitating this article.
Funding cuts to Aboriginal Legal Services (ALS) and their likely impact is discussed by Eddie Cubillo, the Executive Officer of the National Aboriginal & Torres Strait Islander Legal Service. In this article, which you can read below, Eddie argues that law reform and advocacy are very much a part of frontline service delivery. How Aboriginal and community legal services address these funding cuts remains at the forefront for many working in Aboriginal Legal Services.
Dr Paula Gerber and Melissa Castan highlight the case for a universal birth registration system for Indigenous people. Their article is based on the current research project 'Closing the gap on Indigenous birth registration'. WA based lawyer, Sarah Mansfield explores the complex relationships between Indigenous communities and developers. And the issue of cyber-racism and the impact on Indigenous people is discussed by law student and Indigenous Law Centre intern, Hugh Montgomery. We know online racism is harmful, but is the law alone enough to address it?
Finally, our casenote for this edition is by Centre Associate, Brenda Gunn who explains the Canadian case Tsilhqot'in Nation v British Columbia. The case is significant as the Tsilhqot'in Nation were the first to have Aboriginal title officially declared by Canadian courts in June this year.
I hope you enjoy this edition.
Editor
Rebecca Gallegos