Indigenous Law Bulletin 8(10)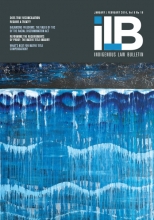 EDITORIAL
The Indigenous Law Centre ('ILC') is starting 2014 with a renewed sense of vigour and excitement as we launch our 'new look' Indigenous Law Bulletin ('ILB'). Thanks to the beautiful artwork of Sydney artist Bronwyn Bancroft, and the efforts of our graphic designer, John Hewitt, I think you'll agree the ILB is looking great from cover-to-cover—with content to match.
I am proud to bring you an interesting selection of relevant and important articles relating to Indigenous peoples and the law. I am also pleased to see a high number of female authors, offering expert analysis on issues from Native Title, to cultural heritage reform and the United Nations.
Last year, the Australian Government announced the terms of reference for the Australian Law Reform Commission's inquiry into the Native Title Act 1993 (Cth) ('NTA'). Leading native title expert, Dr Lisa Strelein discusses the inquiry, paying close attention to section 223 of the NTA which sets the requirements for proof of native title. Lauren Butterly continues her analysis on another High Court case relating to fishing rights and native title. In September/October Lauren discussed the findings of Akiba—in this issue she looks at how native title rights were used as defence to taking undersized abalone in South Australia.
As mentioned in my last editorial, the ILB is always interested in hearing from those working in the field, so I am pleased to welcome Perth lawyer, and native title specialist, Wanjie Song. Wanjie's article discusses the first court ordered payment of native title compensation in De Rose v South Australia [2013] FCA 988. Also writing in the ILB for the first time are two final year law students—Lucy Jackson, a researcher at the ILC; and Marie Iskander, the Editor of the Australian Indigenous Law Review ('AILR'). Lucy discusses the implications of the recent high-profile Bugmy case. And in 'Balancing Freedoms and Creating a Fair Marketplace of Ideas', Marie examines the proposed changes to section 18c of the Racial Discrimination Act.
This issue includes two feature articles: Dr Lisa Strelein discusses the current inquiry into native title services in her article 'Reforming the requirements of proof: The Australian Law Reform Commission's Native Title Inquiry'. And Professor George Williams from UNSW discusses 'Does true reconciliation require a treaty?'. You can also watch George and other commentators, including Professor Mick Dodson, debate this question via ABC's 'Big Ideas' website.  As we move forward in the Constitutional recognition campaign, discussions from experts, including the ILC's own Professor Megan Davis, will become even more important.
Editor
Rebecca Gallegos
CONTENTS
DOES TRUE RECONCILIATION REQUIRE A TREATY?
by George Williams
REFORMING THE REQUIREMENTS OF PROOF: THE AUSTRALIAN LAW REFORM COMMISSION'S NATIVE TITLE INQUIRY
by Lisa Strelein
WHAT'S NEXT FOR NATIVE TITLE COMPENSATION: THE DE ROSE DECISION AND THE ASSESSMENT OF NATIVE TITLE RIGHTS AND INTERESTS
by Wanjie Song
NSW CULTURAL HERITAGE REFORM: DOES THE PROPOSED MODEL REFLECT THE UNITED NATIONS DECLARATION ON THE RIGHTS OF INDIGENOUS PEOPLES?
by Janet Hunt
BALANCING FREEDOMS AND CREATING A FAIR MARKETPLACE OF IDEAS: THE VALUE OF 18C OF THE RACIAL DISCRIMINATION ACT
by Marie Iskander
'FOR THE REASONS GIVEN IN AKIBA…'KARPANY V DIETMAN [2013] HCA 47
by Lauren Butterly
CASENOTE: BUGMY V R (2013) 302 ALR 192
by Lucy Jackson
REGUL AR
MONTHS IN REVIEW
JANUARY – FEBRUARY
Compiled by Lucy Jackson and Rebecca Gallegos
ARTIST NOTE
BRONWYN BANCROFT