Megan Davis elected Rapporteur of UN expert group meeting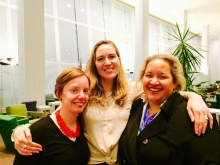 Prof Megan Davis was elected as the Rapporteur of a United Nations (UN) expert group meeting on an optional protocol for the UN Declaration on the Rights of Indigenous Peoples.
The expert meeting was recently held in New York and was also attended by ILC Associate and PhD candidate Lauren Butterly; as well as ANU's Fleur Adcock. 
Prof Davis is currently preparing the final report on the expert meeting, the findings will be reported on at the next meeting of the UN Permanent Forum on Indigenous Issues to be held this April-May in New York.
To read more about this expert meeting, visit the UN website here.
Pictured here are Lauren Butterly, Fleur Adcock and Megan Davis.