Prof Megan Davis & Henry Burmester QC AO present on Expert Panel work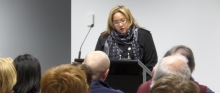 Professor Megan Davis and Henry Burmester QC AO presented the work of the Expert Panel on the Recognition of Aboriginal and Torres Strait Islander peoples in the Australian Constitution to a packed lunchtime session of lawyers from AGS (Australian Government Solicitors).  
The lunchtime seminar in Canberra held on June 30, provided a history of advocacy for constitutional change since 1967 and explored some of the obstacles to a successful referendum.
In particular the session focused on the importance of the Panel's proposed s 116A, a non-discrimination clause in the Constitution as a form of recognition.