Prof Megan Davis on panel with Joseph Stiglitz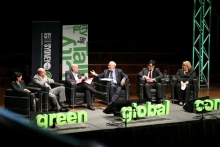 Prof Megan Davis joined Dr Cassandra Goldie, Richard Denniss and Dr Tim Soutphommasane following Professor Stiglitz's keynote address on inequality in the USA and Australia—and what happens to communities when the issue is ignored. 
Nearly 2000 people packed Sydney's Town Hall to hear the discussion which focused on issues such as housing affordability, taxation, income and working conditions. The event was also an opportunity for Prof Davis to discuss the role of the UN in advocating for Indigenous peoples worldwide.
A video podcast of the event is available to download from City of Sydney's website here.