Centre Fellow Dr Kyllie Cripps presents at CUVIC 2014 - Beyond Engagement: Creating Integration, Innovation and Impact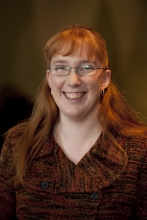 On the 25th May, Dr Cripps' presented at the CUVIC 2014 - Beyond Engagement: Creating Integration, Innovation and Impact conference at the University of Victoria in Canada.
Dr Cripps' presentation was titled: Talkin' UP the Right Way: Building strong communities through collaboration, mutual respect and knowledge sharing
Abstract
In 2007, a small group of Australian Indigenous women met.  One of these women was a researcher and the others worked in the community sector in areas of Indigenous women's issues and family violence.  We discussed the need for action in the area of Indigenous family violence, the strengths we each bought to the table, the kind of project we would be interested in working on and that could benefit our communities.  The researcher of the group agreed to record the meetings and to coordinate developing our ideas into a project.  This was the start of a relationship that was guided by our Indigenous ways of knowing, being and doing.  Values of respect, reciprocity, equality, responsibility and accountability, survival and protection guided our interactions and our work, however, our Indigenous spirit and integrity binded our values together and was central to all our decision making.  The project that resulted explored partnerships in the context of Indigenous family violence - how were partnerships defined and practiced, what barriers existed in making them work and how could they be strengthened.  The project was not only innovative in its methodology unpacking working in partnership as a research practice, but also understanding it from a service perspective with practitioners working in their fields.  This project became much more than a data collecting process, it included building and strengthening the research and leadership capacity of all those involved consistent with our core values.  In this presentation I will talk about our research journey, the knowledge we have shared and the practice of that sharing.  I will also discuss some of the positive impacts that have since flowed from the project.
For more information about the conference, please click here.