Prof Megan Davis talks to NITV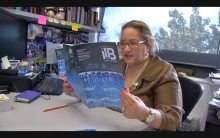 NITV journalist Ryan Liddle visited the ILC last Thursday to interview our Director, Prof Megan Davis. The story, which aired on NITV News Thurs 24th April, 2014, covered the issue of funding to the ILC, and what our publications mean for Indigenous communities.
Prof Davis said our journals help to disseminate complex legal issues to Aboriginal and Torres Strait Islander communities in a way that can be easily understood. She also said the journals provide scholars, students, and those working in the Government, with important commentary and analysis on Indigenous legal issues. 
You can catch up on the story via SBS On Demand until May 1. 
If you want to support the ILC please visit our website.