Con Wreck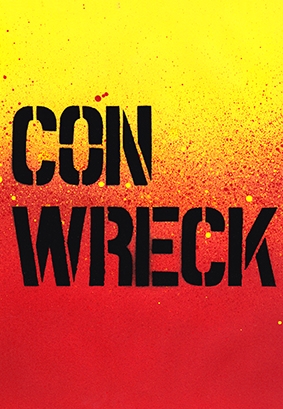 CON WRECK
Jason Wing
Spray paint on paper
297mm x 210mm
2016
My artwork Con Wreck is based on my personal and individual view as an Aboriginal man and I do speak on behalf of Aboriginal people. My spray-painted street poster references the traditional ochre stencils often created in caves as a form of social and historical teaching of the time. The stencilled text is also a reference to the stencilled text and font on government-issue blankets infected with biological warfare chemicals such as small pox. These security blankets seemingly comforted and protected Aboriginal people and initially appeared as an act of kindness on behalf of the colony, however there was an invisible hidden agenda.
I feel that constitutional recognition seems symbolic and does not translate into actual constitutional reform. While I am forced to navigate and negotiate under this current legal system, I do not support the Queen or the forced colonial legal system that currently controls every aspect of Aboriginal people's lives both directly and indirectly. The 1967 referendum is a great example of pernicious framing where most people who voted 'Yes' believed that this would ultimately benefit the advancement of Aboriginal people. The 'special measures laws' have arguably only been used to further disempower Aboriginal people and are a clear breach of international human rights law, as well as the Racial Discrimination Act. This could be viewed as the keystone which allows the current Intervention policy to exist.
These pernicious milestones have created a healthy mistrust within me. I feel that it is a waste of political capital and funds which could be better allocated towards sovereignty and treaty. I feel that the Recognise campaign, close the gap, reconciliation and many more strategies are all ways to divert from the only real and significant change for Aboriginal people which is sovereignty and treaty. Everything else is white noise to me.